Guest post by Sally Davis Berry
About 5 years ago, QR codes seemed like the newest and coolest technology. Take a picture and your phone would take you to a website (which was kind of boring) or a video ( better). DMOs (Destination Marketing Organizations)  thought this would be great to use since more people were using smartphones.
Well, about 4 years ago, the QR code was deemed old school and not that important for tourism. Sometimes the technology didn't work well, the link was broken, or the code went to outdated information, so destinations stopped using them.
And then came WeChat

Then this little app named WeChat came on the scene in China. WeChat uses QR codes for exchanging contact information, paying for items using WeChat Pay and as a way for gathering information. QR codes are literally a way of life in China. And what is innovative in China will gradually find its way to the U.S.
WeChat uses QR codes to connect people (everyone has a unique QR code connected to their contact) and to connect with WeChat official accounts. In fact, a Chinese tour operator friend of mine recently told me that he isn't using traditional business cards anymore; he just connects through WeChat.
QR codes are everywhere in Asia as a way to scan information. And information isn't the only currency exchanged via QR codes.
WeChat Pay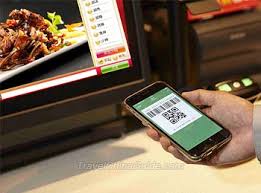 I have written about WeChat pay in other posts, but it is important to know that QR codes are the way that money is exchanged between someone's WeChat account and a cash register, or a person, or an online sale. It is more secure than a credit card and safer than carrying cash. Are you interested in exploring WeChat pay for your attraction or destination? There are several companies that can assist in installing software to make that happen for you. Send me an email if you want some contacts. I am willing to bet that if you are looking to welcome Chinese visitors, you will have QR code readers at your cash registers sooner rather than later.
Companies that specialize in QR code technology
The Aquarium of the Bay on Pier 39 in San Fransico has partnered with a company named Vutags to create QR codes installed around the attraction. They connect to short videos narrated in various languages. I met with Sherman from Vutags recently and checked out the QR code technology at the Aquarium at the Bay and it was easy to use.  Basically, Vutags can create content in various languages (with both adult and children's voices as well) that will engage your international visitors. No need to print multiple visitor maps, and the video is more engaging than print anyways. All this content is available by just placing a QR code near a display.
QR codes- not just for the China market anymore
I recently bought a new laptop and instead of a manual, there was simply a QR code sticker on the keyboard area. Just a quick picture click and I was able to see features and FAQs. I like that because now I don't have to save some big booklet, and I will always know where the information is.
Better Homes and Gardens is a lifestyle magazine that has been around forever. I was leafing through one at my hairdressers the other day and guess what – QR codes sprinkled throughout with additional content. Great idea to bring a legacy publication into the 21st century.
How do you create QR codes?
It's actually very easy to create your own. No need to hire your graphic designer. Check out a site like QR code generator.
But make sure it goes to compelling content. Maybe a video or an event page. Maybe a page of your website that is in another language. It's a great step to take on the way to becoming China ready.
Want to learn more on the QR code trend?
Here is an in-depth article on QR code trends.
Final Thoughts on QR Codes
How about if your attraction posted some short videos that connect to QR codes and placed them around your attraction? Or if you have a driving tour, place huge QR codes along the way so people can capture information.  You could create them for special events or scavenger hunts. So don't dismiss QR codes, my guess is that you will see them everywhere again soon.
Guest post by Sally Berry:  Sally has held many positions in the tourism industry including sales manager at attractions, sales director at a regional DMO, a stint as a receptive operator and now the Tourism Sales and Marketing Manager at the Corning Museum of Glass. The Attractions Coach blog came about after peers kept asking for advice and consulting jobs.  Writing is a passion of mine and I enjoy helping tourism pros become more successful. Learn more here.
Related Articles
WeChat and Facebook – Compare and Contrast
WeChat Pay – What You Need to Know
Social Marketing Strategies for Travel and Tourism
About Catherine Heeg
Catherine Heeg is a recognized social media trail blazer passionate about social media and marketing in the tourism and hospitality industry. She takes the mystery out of marketing!
She creates and delivers meaningful, dynamic workshops that meet your unique needs in the Travel, Tourism & Hospitality Industry.
Catherine and her team help travel, tourism and hospitality pros design and implement social media marketing strategies and tactics that drive traffic to their social and web sites. Learn more…
Do you need a roadmap for your social strategy? Let's chat and see if there's a fit to work together to strategize your social marketing.
Join me socially: Facebook, Twitter, LinkedIn, SlideShare and Pinterest.
When you 'like' my Facebook page you'll have access to Free Resources just for travel pros!
Professionals who are serious about taking consistent, winning actions every day to build their business and achieve measurable results love working with Catherine.